The mushrooms, whether Japanese shiitake, Italian portabella or French cep that we are talking about, can be a very tasty ingredient in our meal. There are many ways to cook mushrooms, but in this article it's the sauce we focus on. The mushroom sauce is very easy to prepare and can be used in many dishes. You can combine it with pork, potatoes or even enjoy a simple toast with the sauce. Take a look at the ten recipes presented below and prepare your favorite mushroom sauce.
1. Spaghetti with Creamy Mushroom, Leek & Pancetta Sauce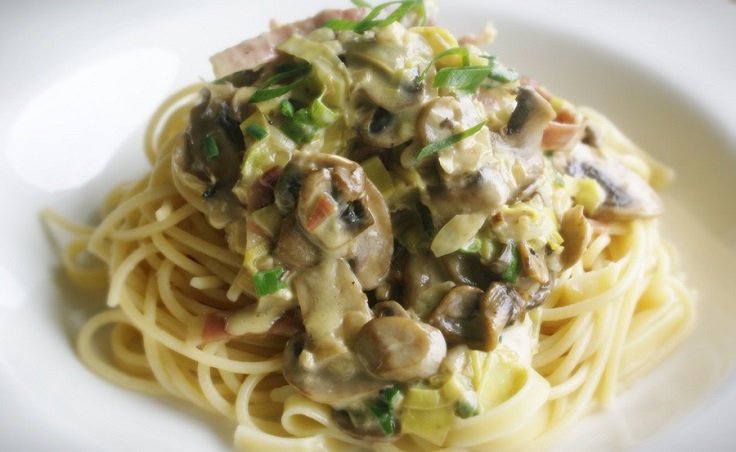 via delishdinners.wordpress.com
Because it's very delicious, having another pasta recipe on the list was a total must. In this recipe, we have the spaghetti with creamy mushroom, leek and pancetta sauce. While the pasta is boiling, use the time to prepare the amazing sauce. In a frying pan, add butter, olive oil, garlic, onion, leeks and mushrooms. Cook, until the mushrooms and leeks are soft, and then add the pancetta and the thickened cream. That's one creamy, buttered sauce for you and your pasta!
2. Skillet Pork Chops with Mushroom Sauce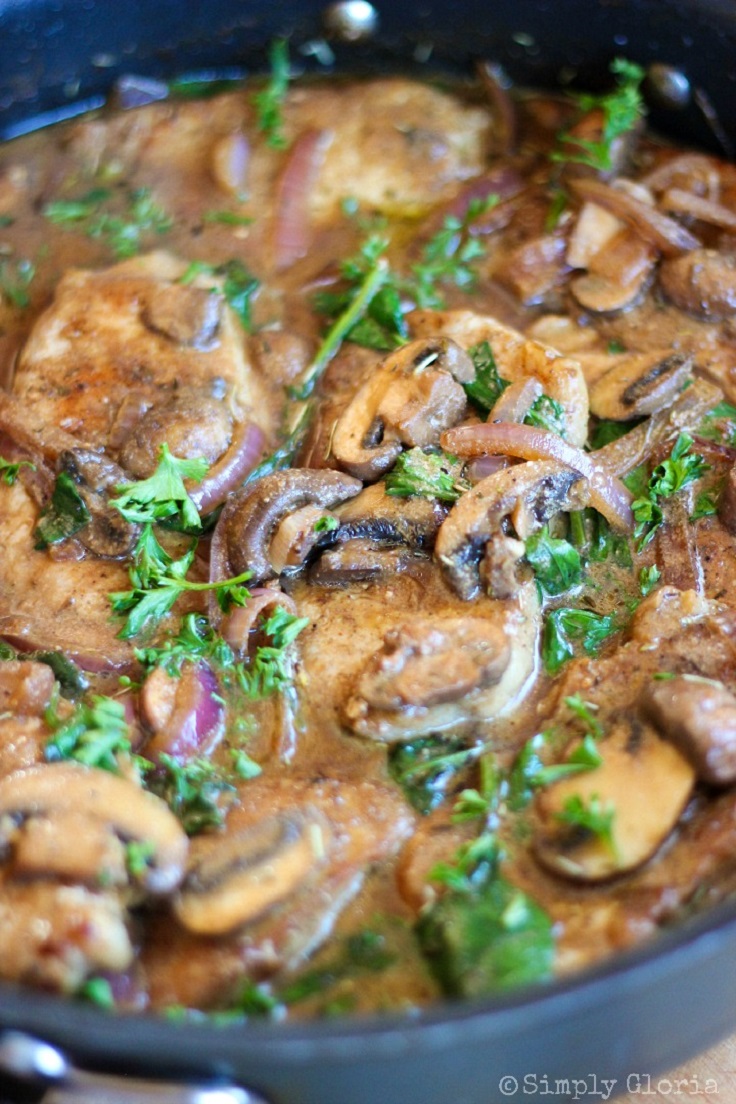 via simplygloria.com
For all the pork lovers: try this one. It's a combination of pan fried pork chops in sauteed mushroom and onion sauce. For the recipe, you need: pork chops, olive oil, all purpose flour, butter, mushrooms, red onion, Worcestershire sauce, garlic, sprig or dried rosemary, beef broth, Greek yogurt or sour cream, baby spinach, parsley, salt and pepper. You can prepare a potato side dish, which you can also combine with the mushroom sauce, you are going to have enough even for the dish.
3. Chicken and Mashed Redskin Potatoes in Creamy Mushroom Sauce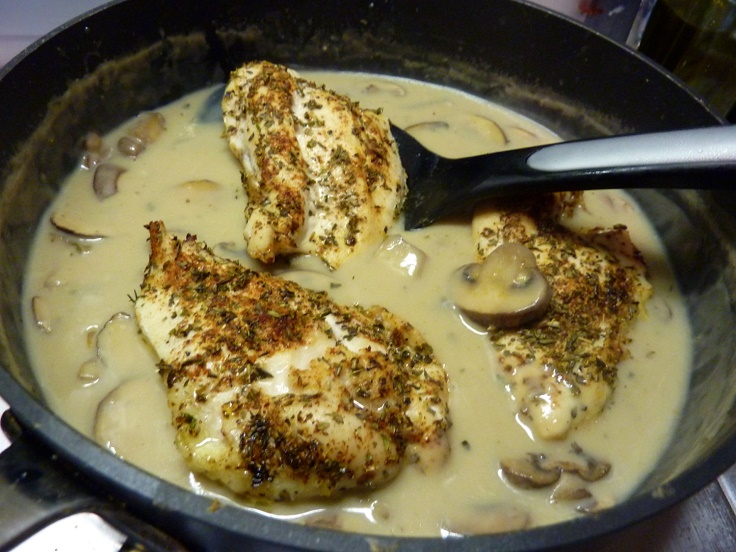 Meat, potatoes and mushroom sauce. As simple and as delicious as that! While the redskin potatoes are simmering and the chicken breasts are grilling, prepare the mushroom sauce and season it with paprika, onion powder, oregano, thyme and basil. After the chicken breast halves are ready, pop them in the sauce and go back to the potatoes. Prepare them with butter, garlic, and grated Parmesan cheese. if you want them more creamier, add some milk.
4. Pan Fried Fingerling Potatoes with Wild Mushroom Sauce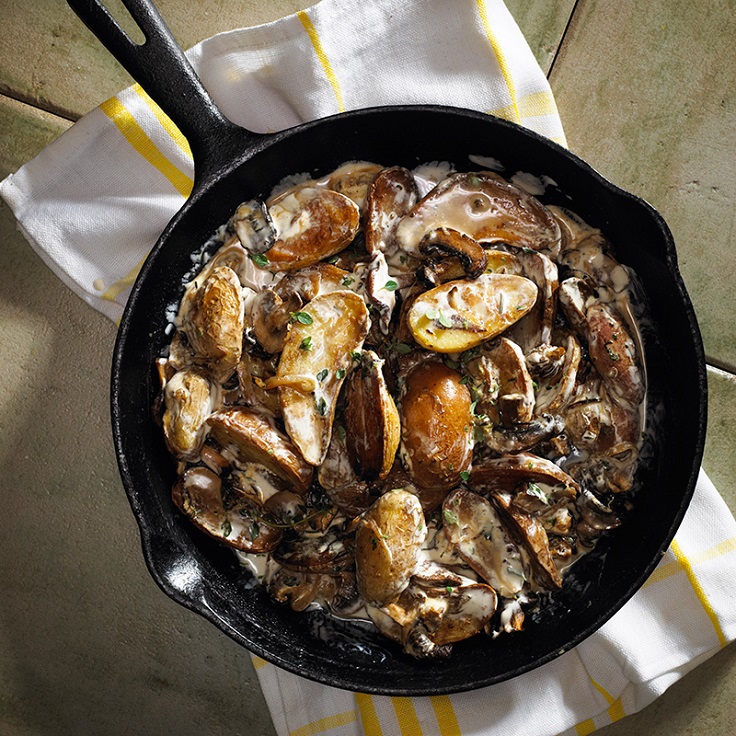 Now, a recipe for those who crave gluten – free meal. The recipe consists only of potatoes and mushroom sauce, seasoned with pepper, fresh thyme, but it has other ingredients in it, such as Dijon mustard, heavy cream and butter. In a large skillet over medium heat, melt butter, add the potatoes and cook until tender. Stir in mushrooms, garlic and shallot. Cook for 10 minutes and then add broth, dried mushrooms, mustard and herbs. Cook  until most of the broth has cooked off and stir in the heavy cream. The best part? It has only 160 calories!
5. Bacon Mushroom Crêpe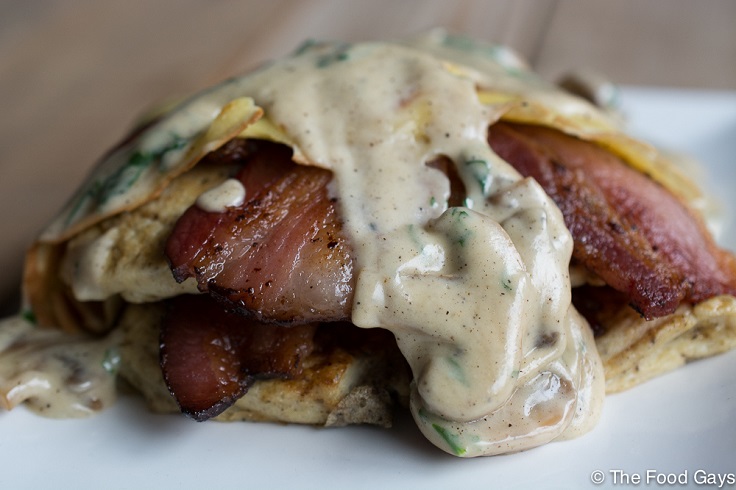 via foodgays.com
Breakfast, lunch, dinner, no matter what it is, you are going to love this crêpe at any time of the day. It's really easy to make it. First, choose your favorite pancake recipe and make some. When you're done, prepare mushroom sauce, fry eggs and crispy bacon and the rest is just a piece of cake. On a pancake, add all of these ingredients and roll over. Voila!
6. Wild Mushroom Crostini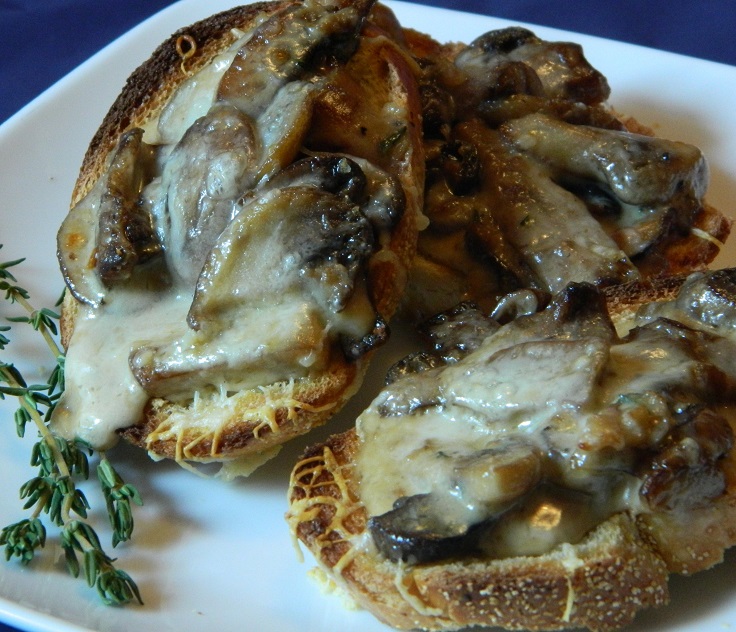 This recipe is perfect when you are in a hurry and don't have plenty of time to spend in the kitchen. These crostinis are simple to make, yet so delicious. Just prepare the mushroom sauce, and add it on each crostini bread. Grate some Parmesan or Fontina cheese, leave it in the oven for some time to melt and you are ready to go.
7. Mushroom Sauce on Toast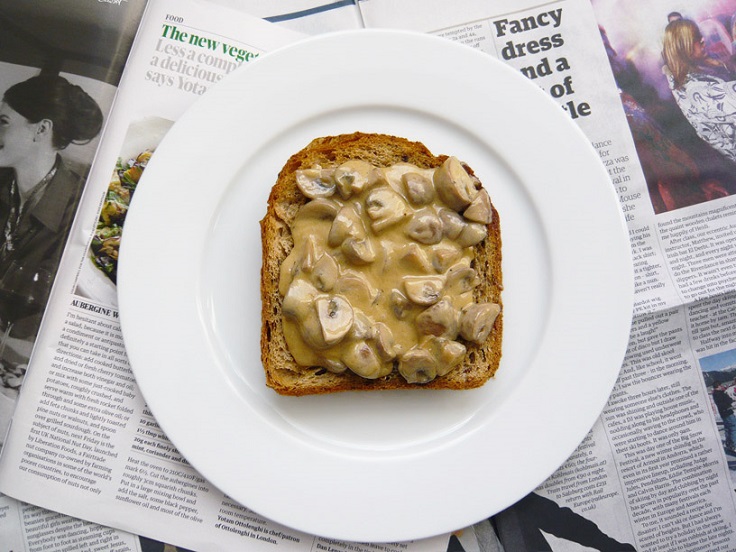 …Or, even if you don't have the time to prepare crostini, then go for something very simple, such a regular toast with the mushroom sauce. It will be ready in a very short time, but you'll still have a tasty brunch, lunch or dinner. You need mushrooms, butter, ground black pepper, soy sauce, double cream, truffle oil, olive oil and thick pieces of bread.
8. Turkey Meatballs in a Creamy Portobello Mushroom Sauce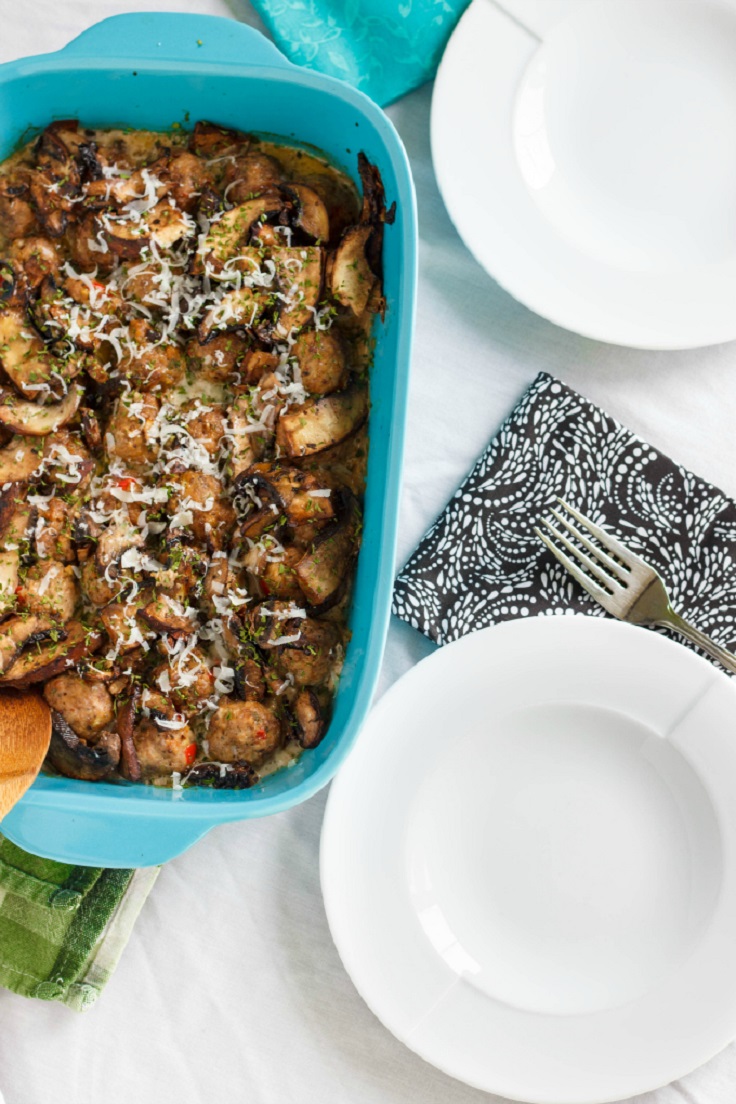 The recipe serves about 80 meatballs and everything is done in approximately 45 minutes. First, toss the mushroom ingredients until they're nicely coated and place the mixture in a baking pan. Then, prepare the turkey meatballs, and bake them for 15 minutes. The mushroom mixture as well needs to be in the oven for 15 minutes. In the meantime, combine the sauce ingredients and toss them over the mushrooms, and then toss it over the meatballs. Cook for 10 minutes and serve with shaved Parmesan cheese and parsley.
9. Salmon with Shiitake Mushroom Sauce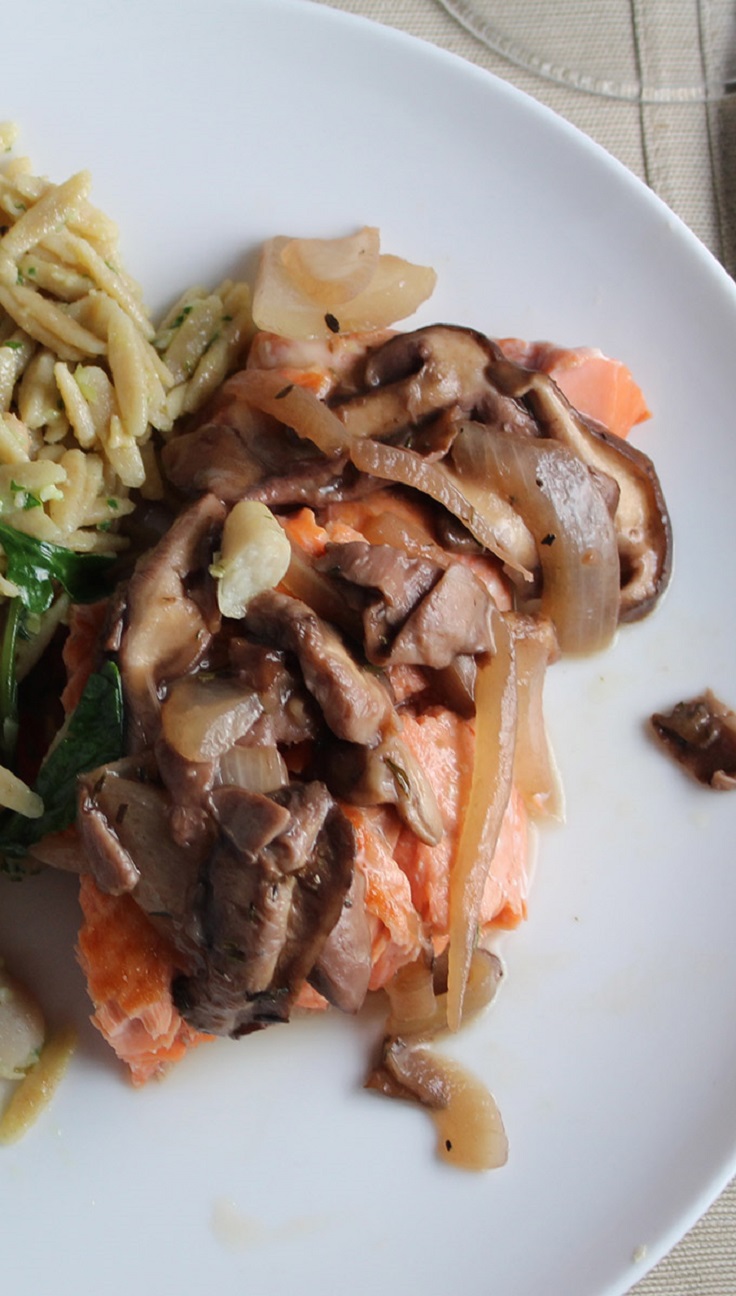 Salmon is one the healthiest food choices you can make, so it's always good to eat it at least once per week. Combined with mushroom sauce, they make a very delicious lunch. Prepare the mushroom sauce, than the salmon fish. Toss the sauce over the salmon and serve them together. If you want to, you can add something else as well, such as potatoes, rice, or in this case, orzo with parsley pesto, white beans and olives. If you like your meals with a glass of wine, don't hesitate to drink one with the lunch.
10. Fettuccine with Mushroom and Bacon Sauce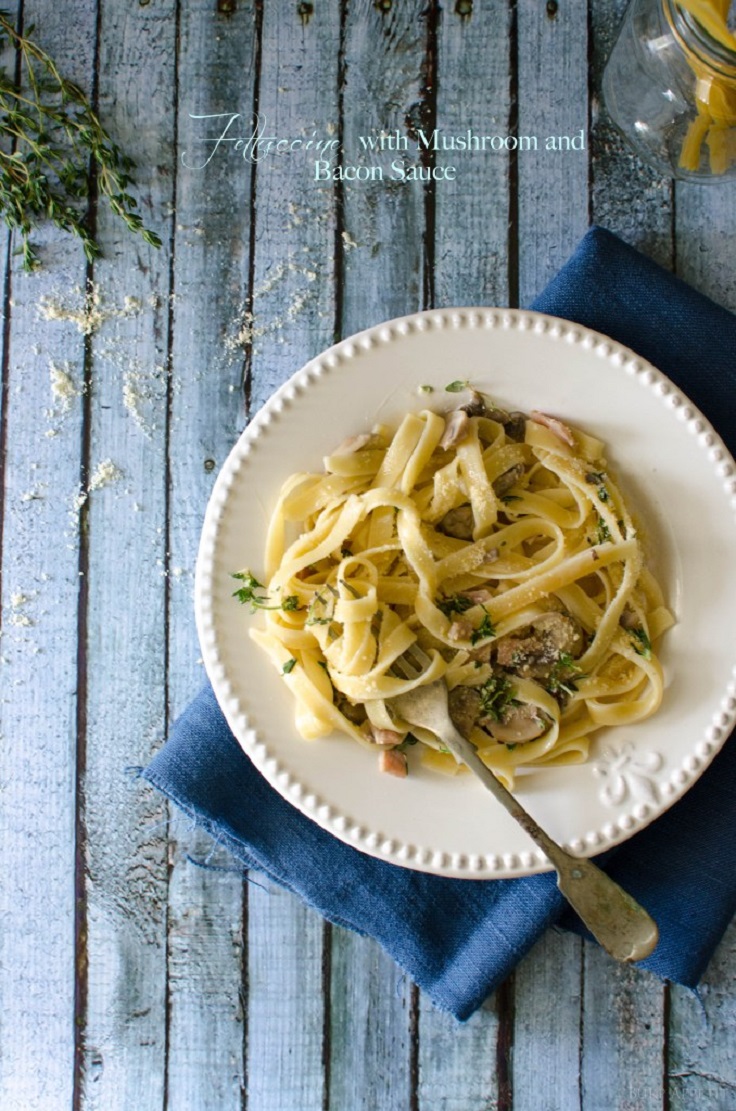 via burpappetit.com
One thing is for sure: mushroom sauce goes very well with pasta. Spaghetti, fettucicine or penne pasta, when combine with a creamy mushroom sauce, you will never want only one dish of it. That's why, in this recipe, you have the fettuccine pasta combined with mushroom and bacon sauce. Boil the pasta according to the given instructions, and in the meantime prepare the mushroom bacon sauce. When the pasta is done, drain it and mix it with the sauce. As always when it's pasta we're talking about, serving it with Parmesan and thyme leaves is something you don't want to skip!