With a healthy diet it is always good to take snacks from time to time. But when we talk about snacks, we hear the healthy ones. The less fat they are, the better. Healthy does not always mean gluten-free or vegan, but in this article we have these snack ideas. The following ten recipes are all very simple and can be done quickly. They are delicious, vegan and gluten-free, which is an advantage or necessity for some! There are also sweet and savory snacks on the list so you can decide for yourself which ones you like the most. Prepare it and enjoy it!
1. Chocolate Almond Joy Bars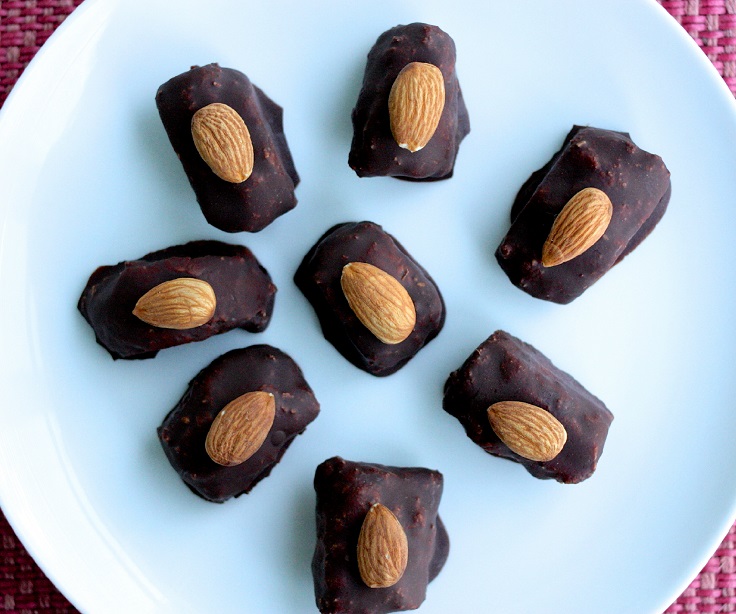 via choosingraw.com
Sweet snacks in a form of mini desserts are always welcomed! These ones are prepared this way: in a blender or food processor put dried unsweetened coconut, coconut oil, maple syrup, vanilla and pinch of salt. Shape the mixture into mini rectangles and put them in the fridge for half an hour. In the meantime prepare the coating, for which you need melted cacao butter, raw cacao powder, maple syrup, pinch of sea salt and almonds. The final step is pressing almond on each bar and then returning them in the fridge for another 30 minutes to set.
2. Crispy Kale Chips
The kale belongs to the cabbage family and it is considered as one of the healthiest green foods on Earth. It can be included in many dishes, but in this case you can even make a snack out of it. All you need is kale, olive oil, kosher salt, freshly cracked black pepper. Wash, dry and remove the ribs from the kale, drizzle it with olive oil, salt and pepper and bake it for 15 minutes and while rotating the pans halfway through. Crispy, healthy and delicious – this is how our everyday snacks should be!
3. Oatcakes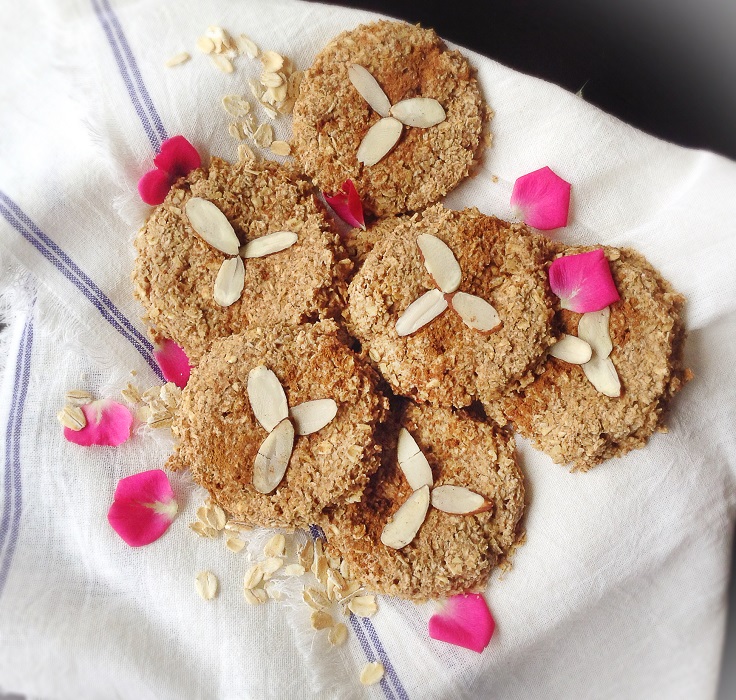 Oats are rich in magnesium and contain beta – glucans which slows down the absorption of carbohydrates into our bloodstream. That makes them certainly a food worth eating more often. This snack is the perfect way to do it. Mix separately dry and wet ingredients, combine them and stir. Flatten dough and cut it in circle with a biscuit or a cookie cutter. Press almond slices and top with cinnamon. Bake the oatcakes for about 15 minutes and then allow to cool on a wire rack.
4. Cashew Butter Banana Bites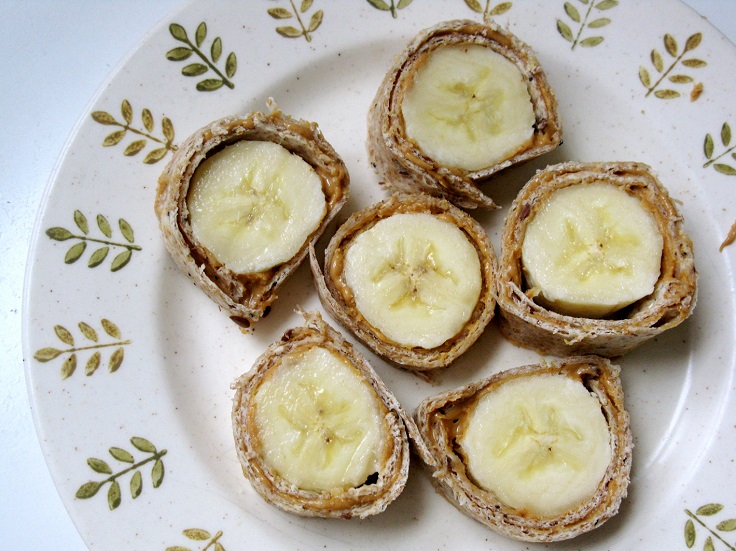 Easy, quick and delicious, these cashew butter banana bites are really addictive that you won't be satisfied with only one. That means you should prepare more! Just in case. You need whole grain tortilla, cashew butter and a banana. Spread cashew butter on the tortilla, peel and place the banana on the edge, roll and then slice. That's it! In only few minutes you have a tasty, healthy snack.
5. Nachos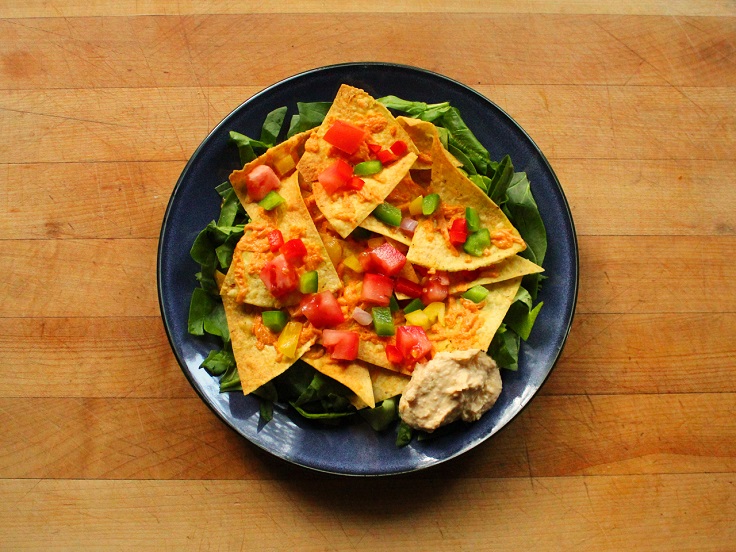 via garden-of-vegan.tumblr.com
One of the easiest recipes on the list, to prepare the nachos you only need the chips and the rest is optional. You can top it with different spices and vegetables, such as onions, garlic, spinach, cherry tomatoes, olives, hummus and so on. The nachos are perfect snack choice for a movie night or when hanging out with friends. It is really addictive, because it's soo delicious!
6. No – Bake Brownies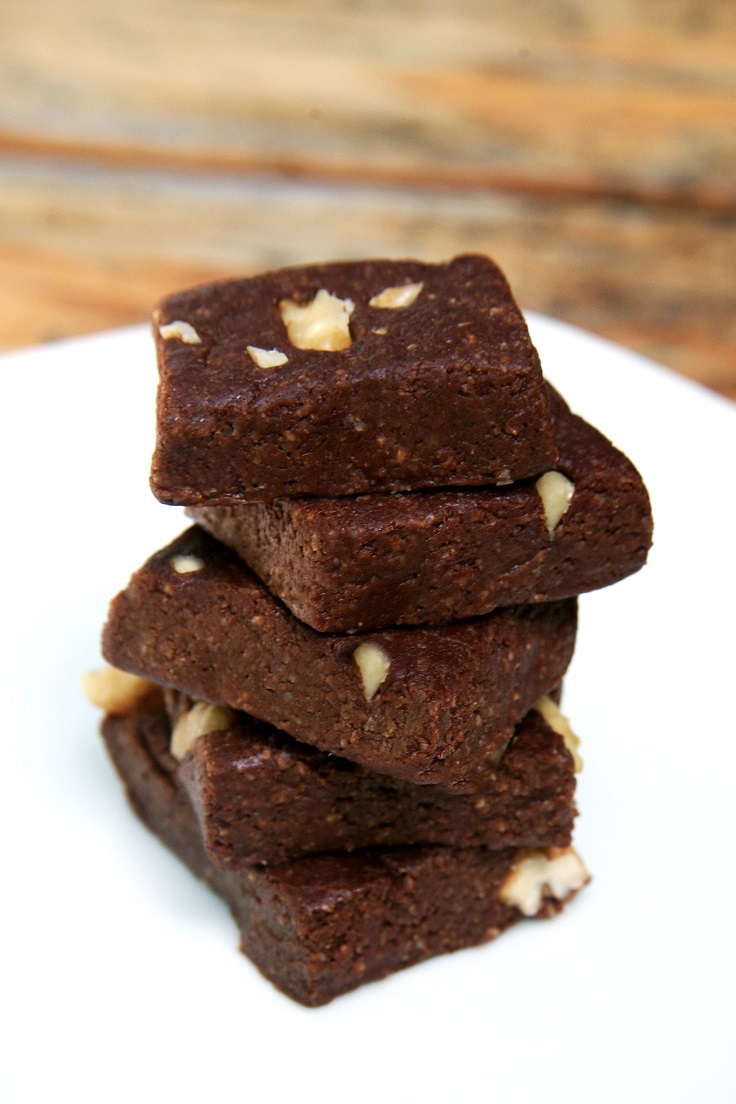 via popsugar.com
This recipe is not only vegan and gluten – free, but the brownies are both sugar and dairy – free! Plus, they are no – bake which is such a big plus especially when cooking during the summer. You need rolled oats, raw cashews, pitted dates, unsweetened cocoa powder, salt, banana, applesauce and chopped walnuts. These brownies are chewy, chocolate with nuts and perfect as a snack for anytime during the day!
7. Corn Chips
The corn chips is a crispy, savory snack that is perfect to eat during the morning, when you're in a hurry and don't have time for a real breakfast. The corn chips bars are made of corn, red bell pepper, buckwheat, lime, peppercorn and sea salt. But, it takes time to actually eat it! The chips is all done in 16h , but you can store it an airtight container in a cool place for 2 weeks. Also, if you want to, you can prepare it with flax seed instead of buckwheat.
8. Avodilla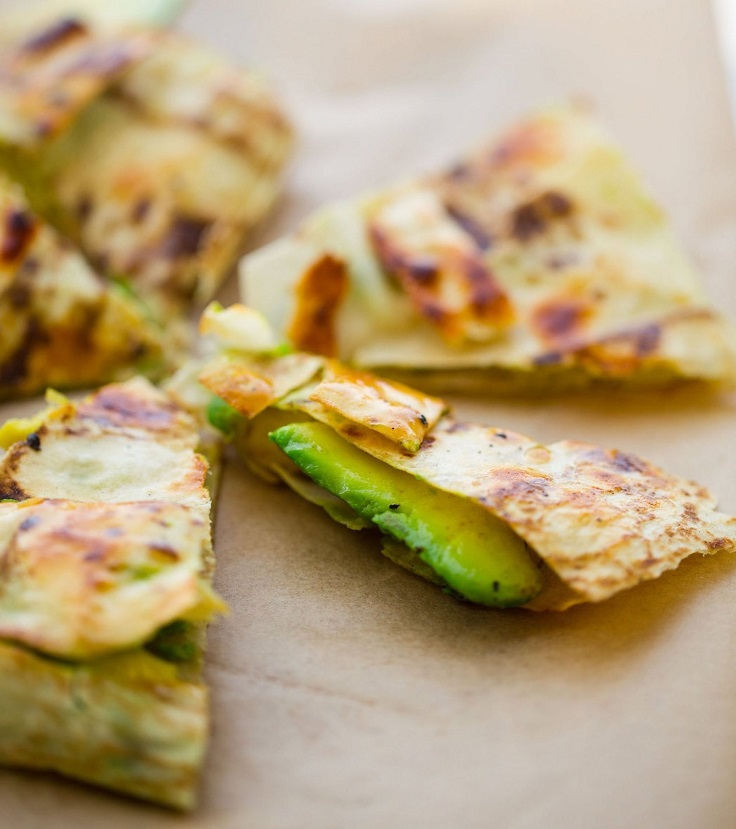 via thekitchn.com
This snack is not only a combination of avocados and quesadillas, but it's also a combination of sweet and savory. We get that taste by having savory flavor coming from the lavash bread and a sweet taste from the buttered avocado with a drizzle of maple or agave syrup. It's really easy to make this wrap – in a skillet over high heat, melt coconut oil and place the wrap to soften and warm. Add avocado slices in the middle and fold over into thirds. Drizzle with sweetener over the wrap, flip it once and remove it once it has brown edges.
9. Peanut Butter Cup Energy Bites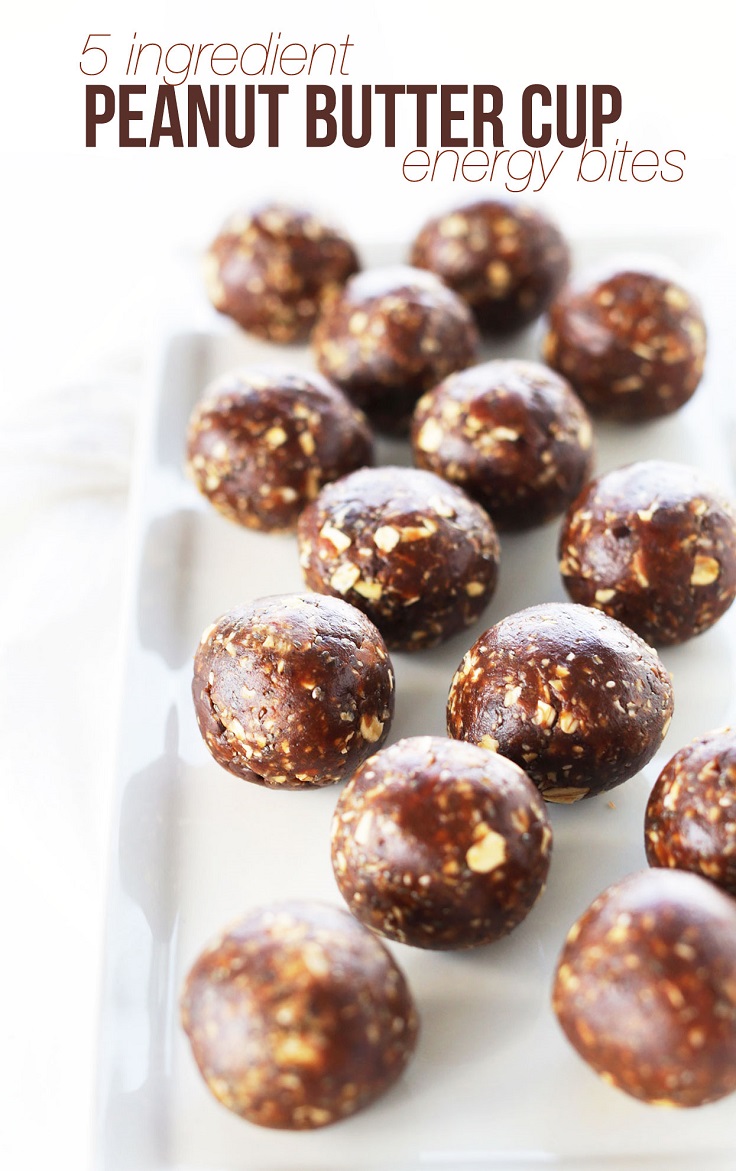 A sweet, healthy snack in only 15 minutes! You need dark chocolate, chia seeds, gluten – free rolled oats, all natural salted peanut butter (or almond butter) and pitted dates. In a blender or food processor, first pulse the dates and then add the rest of the ingredients. Form one inch balls out of the mixture and put them in the fridge to set, but if you feel like you're too impatient to wait, eat them straight away! The recipe serves 15. Share them with friends, family and enjoy the peanut butter chocolate experience!
10. Pizza Tofu Sticks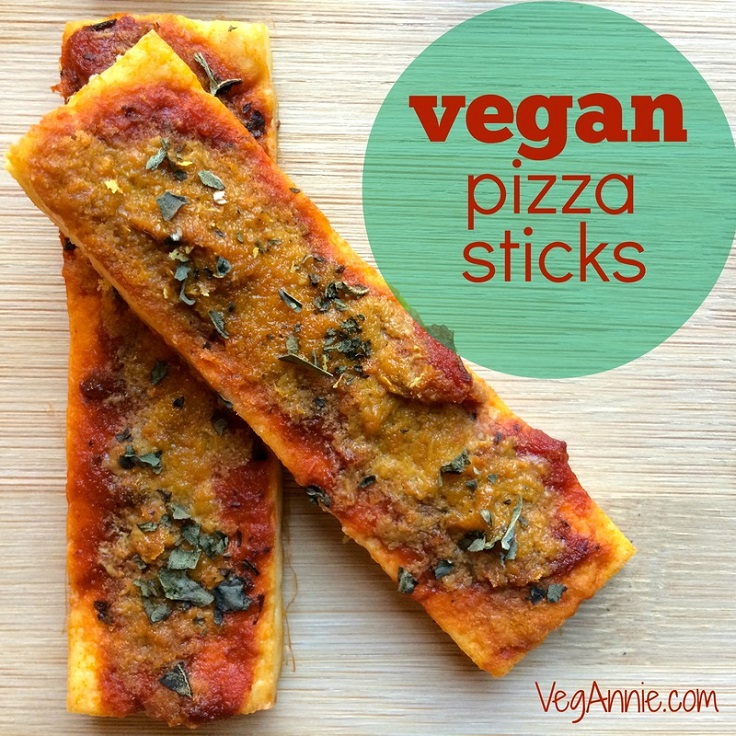 via vegannie.com
Who said that a pizza without pepperoni and cheese is not worth eating? That's so wrong and these pizza tofu sticks only prove that. To prepare them, you only need four ingredients: extra firm tofu, marinara sauce, nutritional yeast and basil. Drain and cut tofu into thin pieces and place them on a baking sheet. On each stick, spread marinara sauce, sprinkle nutritional yeast and basil. Bake them for 27 – 30 minutes. These pizza sticks are low in carbs and high in protein, plus the calories per serving are 133. Sounds nice, doesn't it?