There are a lot of people skipping dinner because they are worried about gaining weight if they eat later in the day, but when it comes to dinner, it's different – it's important. It's our last meal of the day and it's important to feed our body so that it can use food as fuel for all the body's processes while we sleep.
What really matters is what we eat. Of course, everyone wants a pizza or a chocolate dessert, but this type of food does not help you enjoy dinner. Instead of fast food, opt for homemade dinners, much healthier and just as delicious. Scroll down to see which ten recipes have made our list!
1. Chili Mac and Cheese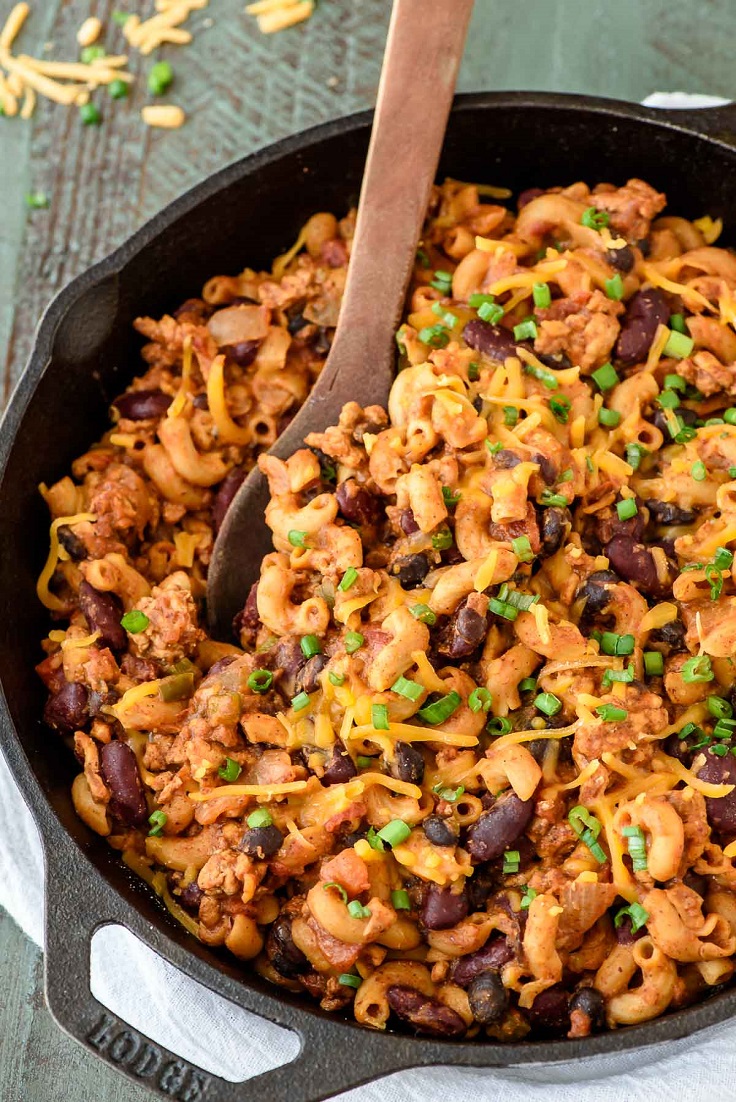 via wellplated.com
For all the fans of mac and cheese – this recipe is something you're about to love. But, in this one there isn't just macaroni and cheese, but other ingredients as well such as turkey and beans. It's a little bit different than the regular dish we're used to eat, but this one is also deserving all the attention! This recipe is ideal if you're cooking for six and if you don't have much time – this one is ready in 30 minutes.
2. Spicy Leek and White Bean Stew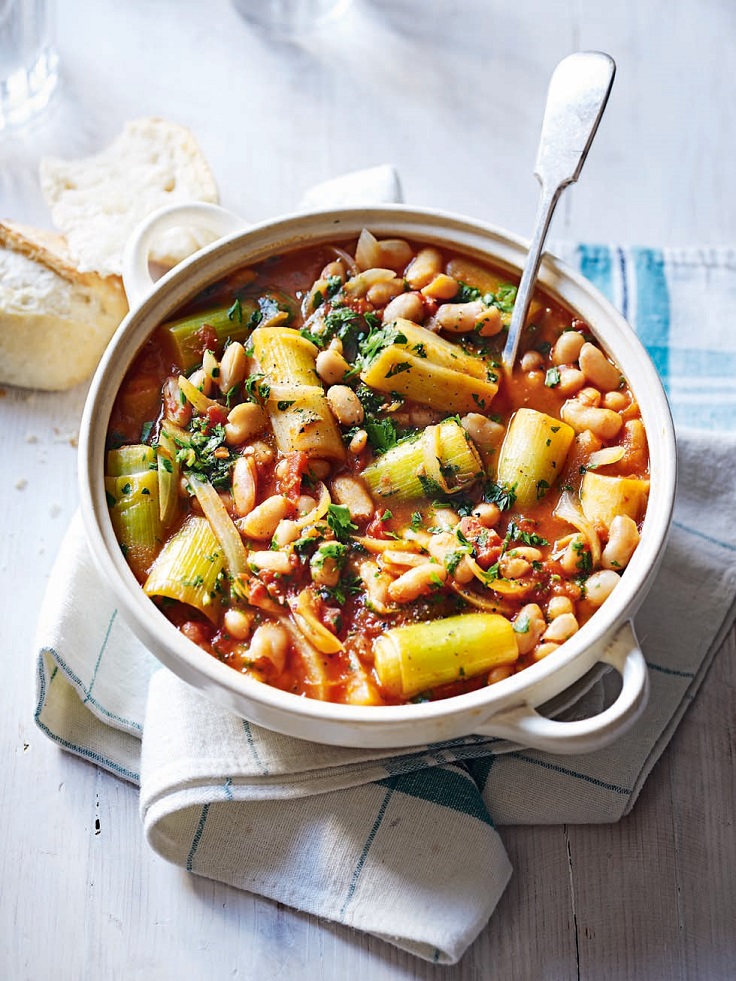 Tired of baked or fried foods? How about a stew that will warm you and make you wish for another plate of it? We suggest you the spicy leek and white bean stew. It's perfect for those with basic cooking skills and for those who doesn't have much time to spend in the kitchen. Another reason to prepare this stew is because it has only 211 calories per serving, making it great for those who are willing to lose some weight. Also, it's vegetarian and can also be adjusted to vegan.
3. Burrito Bowl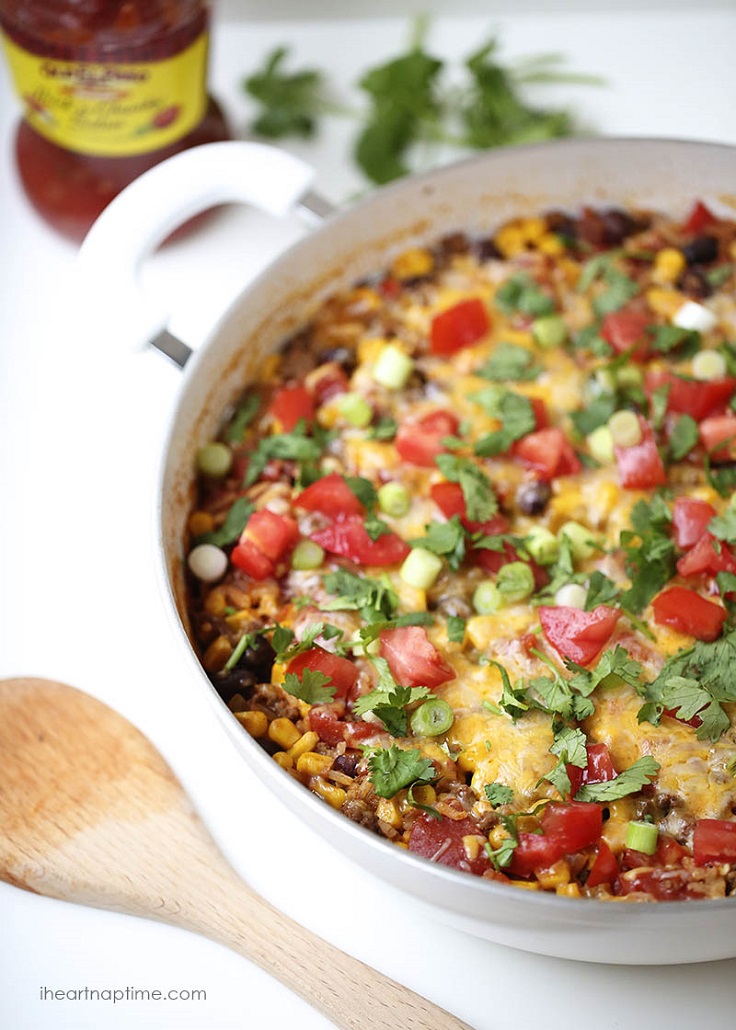 Instead of burrito rolls, how about burrito bowls? Today they are just as much as popular as the rolls and they are also equally as delicious. We're talking about many tasty ingredients into one pot – cheese, beans, corn, rice. Plus, you can ad extra toppings to the meal and is recommended to use sour cream, cilantro, green onions and tomatoes. Are you a fan of avocados? Then feel free to add few slices to even a guacamole.
4. Sausage and Sun Dried Tomato Pasta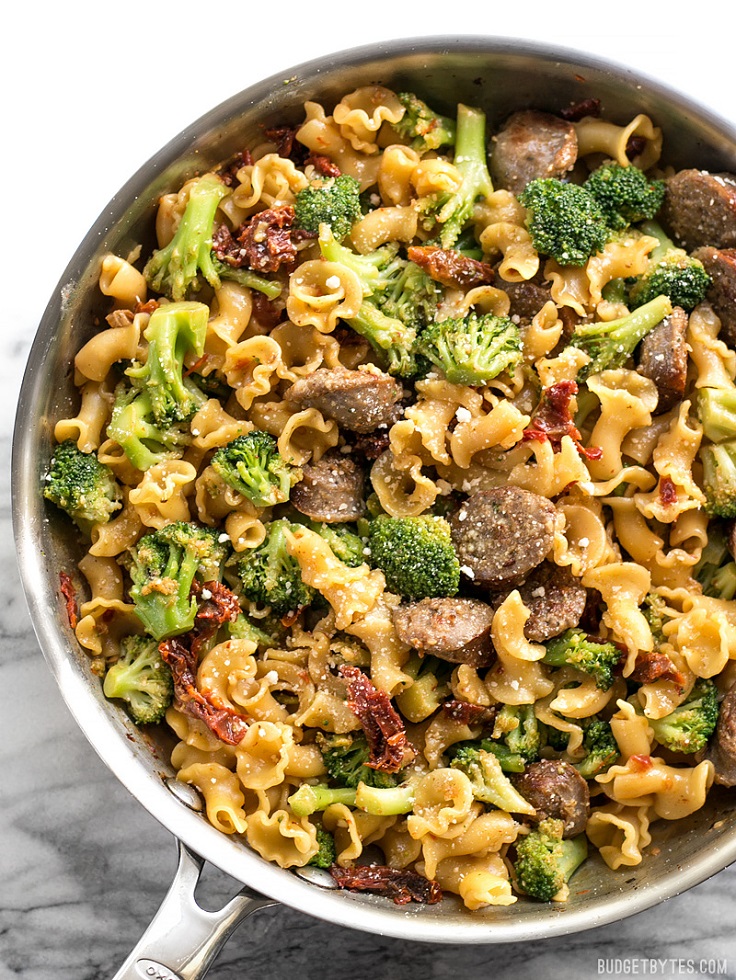 via budgetbytes.com
Pasta is one of the easiest meals to prepare and we're almost sure that there isn't a person who doesn't love pasta, right? There are hundreds of recipes on preparing it with different sauces and ingredients, so this time we're sharing this recipe with you – pasta with sausage and sun – dried tomatoes. For this, you need 8 oz. sweet Italian sausage, 1 tbsp olive oil, 2 cloves garlic, ½ lb. frozen broccoli florets, 2 cups chicken broth, ⅓ cup sun dried tomatoes, 8 oz. pasta, pinch of red pepper and ¼ cup grated Parmesan.
5. Chicken Parmesan Pasta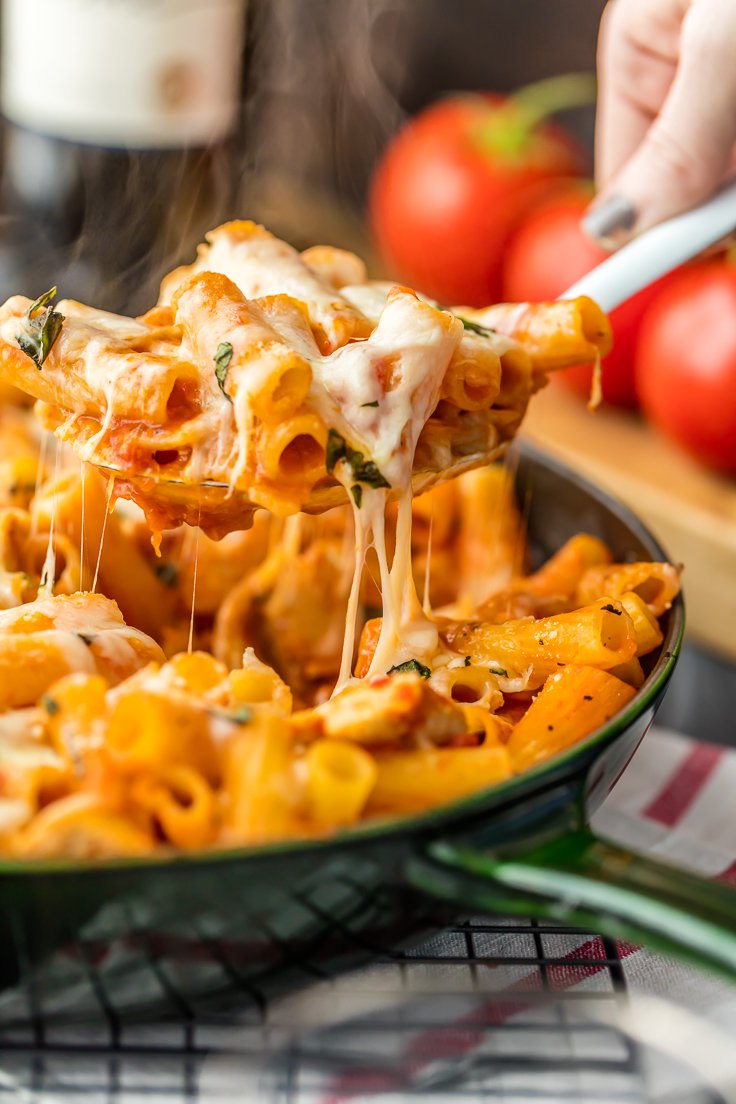 Being delicious, budget – friendly and very easy to prepare, we decided to share another pasta recipe with you and this time it is pasta with chicken and cheese. These three really go great together and we're sure that can easily become your favorite cheat meal! To prepare this one-pot pasta, you need 2 tablespoons Italian dressing, 3 chicken breasts, 16 ounces small/medium sized rigatoni pasta, 1 24-ounce jar Marinara pasta sauce, 1/2 cup mozzarella and parmesan each and salt and pepper to taste.
6. Curried Ground Turkey with Potatoes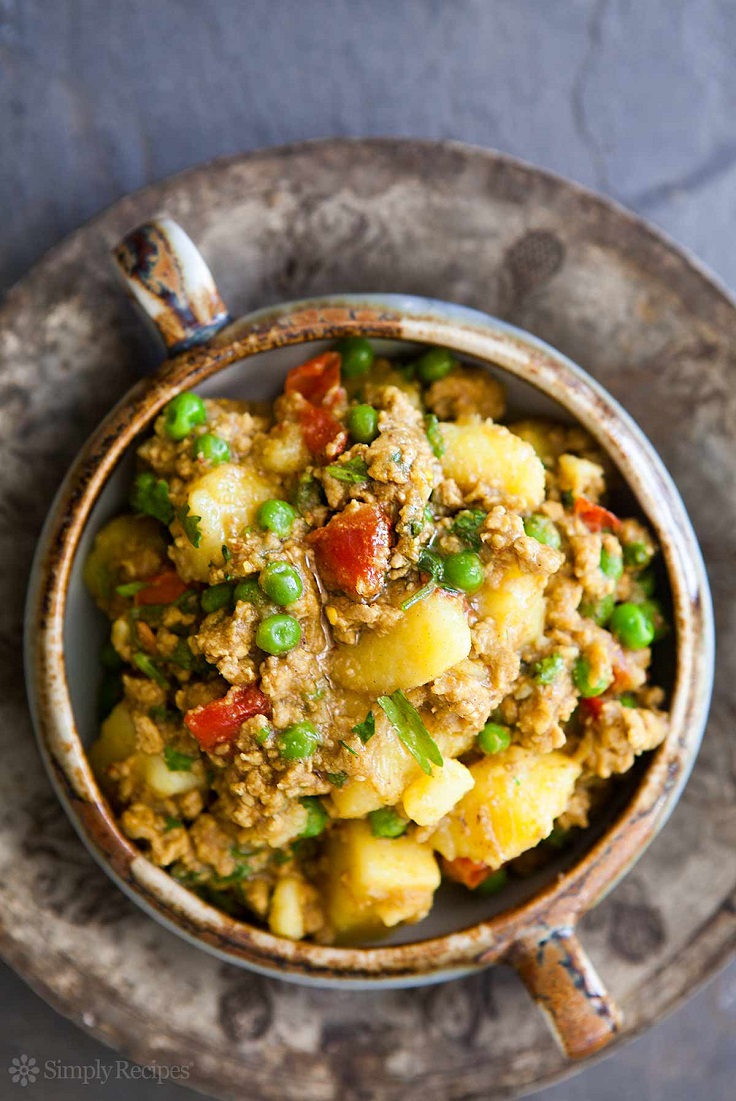 If you want to boost your iron and zinc levels, one of the best ways to do is through the food you eat. Turkey is a great source of these two, and of vitamin B6 and potassium. Besides its health benefits, it is also delicious and you can prepare it within many recipes. Combine it with potatoes, tomatoes, peas and add other ingredients as well for better taste, such as cumin, masala, coriander and cilantro. Not a fan of turkey? Just use chicken, beef or lamb instead.
7. Chickpea Shakshuka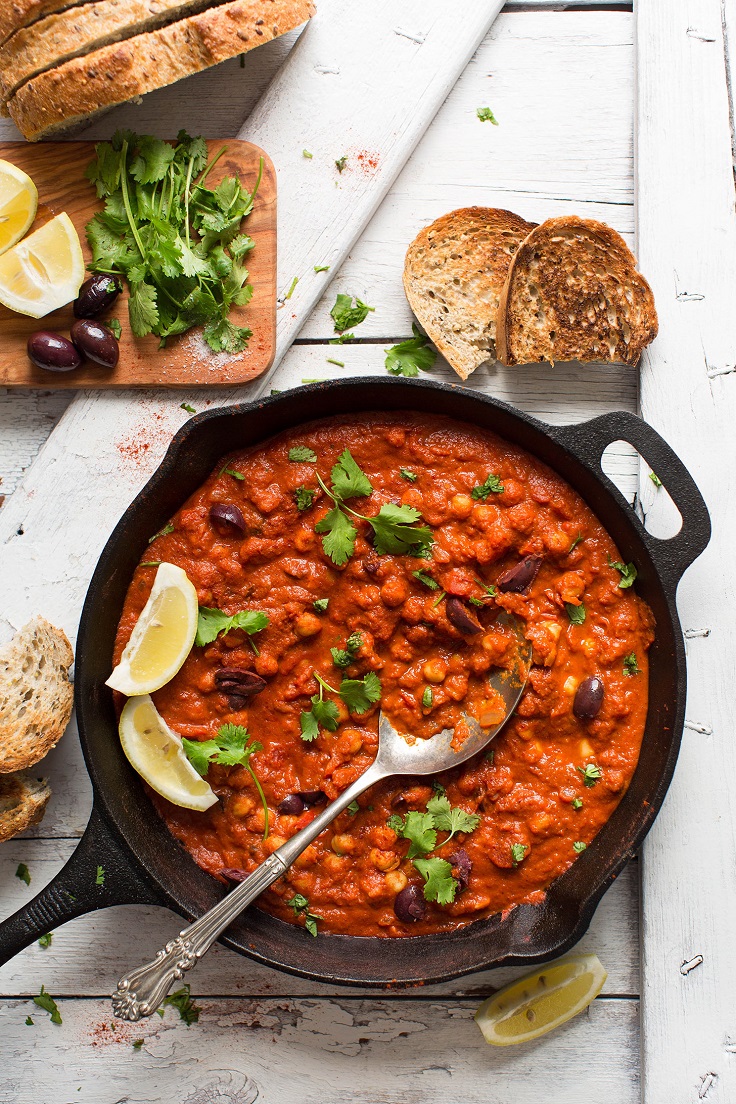 The shakshuka is a meal coming from the North African cuisine and it's very delicious. It's ready in just 30 minutes and it's ideal combination of chickpeas, olives, tomato paste, red pepper and spices such as chili powder, cumin, and paprika. When it comes to the serving, you can serve the shakshuka with lemon wedges, rice, brown rice pasta and bread – especially if it's crusty!
8. Mexican Rice Skillet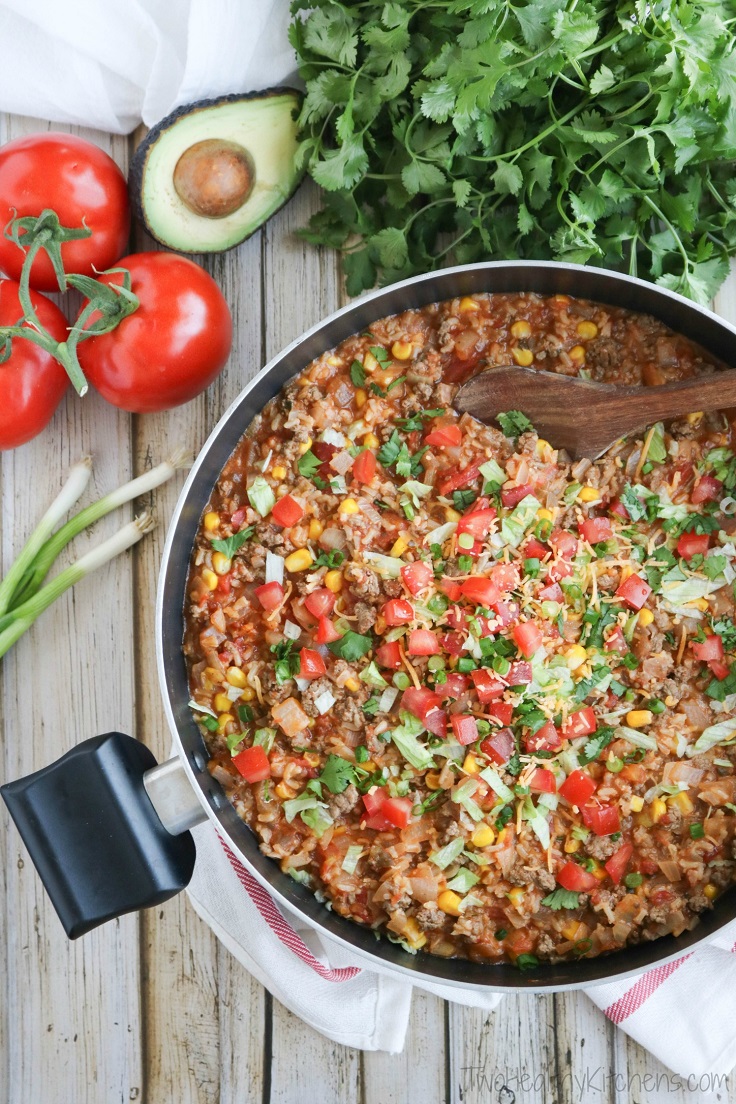 Ready in less than an hour, this meal is ideal for everyone who loves the Mexican cuisine. Start with these ingredients for cooking – 1 pound extra-lean ground beef or turkey, 2 cups chopped sweet onion, 1 tsp minced garlic, 2 1/4 cups water, 1 16-ounce jar of your favorite salsa, 1 cup fresh or frozen corn, 1 cup uncooked instant brown rice, 7 tsp taco seasoning, 1 tbs hot sauce and 1/2 cup cheddar cheese. Add other ingredients for toppings, such as herbs, veggies and sauces.
9. Mango Chicken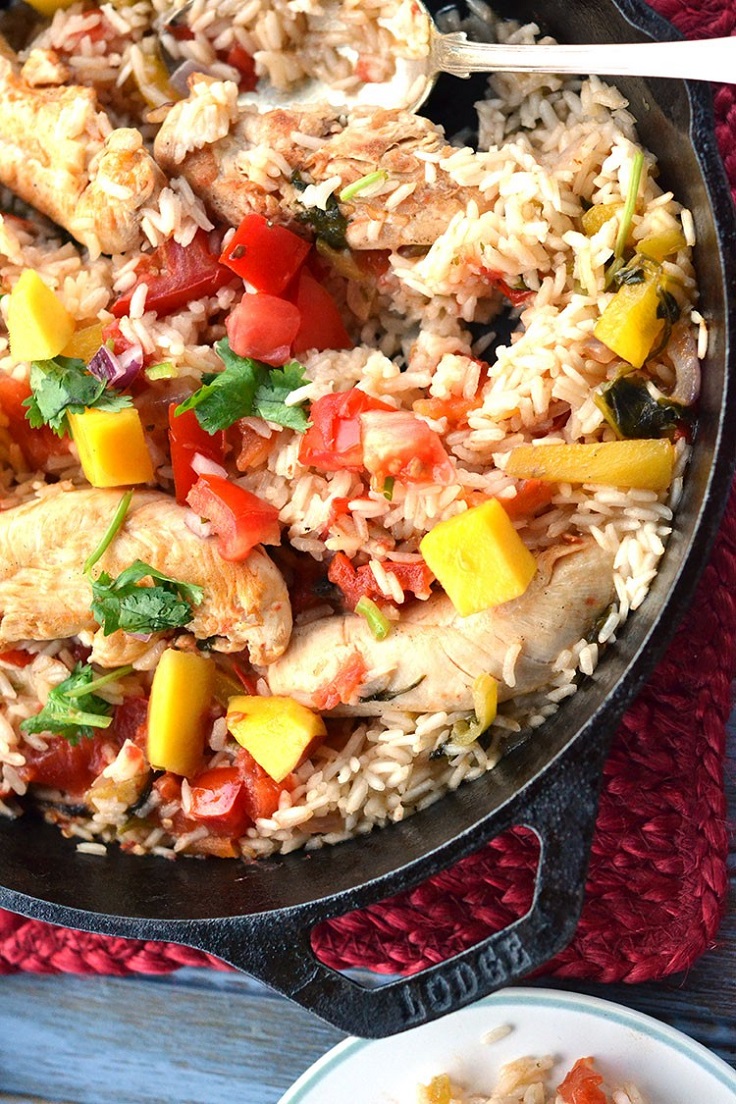 via allshecooks.com
Upgrade the usual rice+chicken meal by adding mango salsa. It will add unique taste to the meal, making worth the try! You just need four ingredients to prepare this dinner – 1 pound boneless skinless chicken cut in strips, 1 cup of white rice, 1 cup of mango salsa and 2 cups of chicken broth. Serve it while it's still warm and if you're a mango fan, add some more if you want to!
10. Spicy Eggs and Potatoes with Goat Cheese
via pinchofyum.com
This meal isn't perfect just for dinner, but it can work out fine for lunch as well. There are three things that you need to prepare first – the sauce, the potatoes and last, the eggs and the kale. To prepare the meal, you'll need 2 tablespoons olive oil, ½ white onion, 3 cloves garlic, 3 teaspoons ancho chili powder, 1 teaspoon salt, ½ cup chicken or vegetable broth, 1 28 ounce can tomatoes, 5-6 eggs, 1 cup diced potatoes, 2 cups kale and 4 ounces goat cheese.